The Texas Gulf Coast
This map shows how Texas is bordered by New Mexico, Oklahoma, Arkansas, Louisiana, Mexico, and the Gulf of Mexico. The hilly southern and eastern part of the state is called the Gulf Coastal Plains.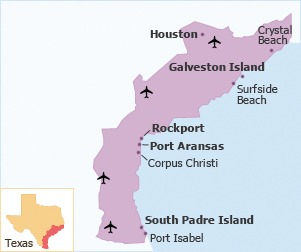 Stretching about 367 miles as the crow flies along a gentle arc that makes up the northwestern edge of the Gulf of Mexico, there are over 3,300 miles of shoreline along its islands, bays, and river mouths.
Home to some of the best beaches in America, the Texas Gulf Coast region draws millions of visitors to its beach playground. Stretching some 350 miles from South Padre Island all the way to Beaumont & the Louisiana border, this region is renowned for its wildlife & natural beauty.
The most popular resort communities are Galveston Island, North Padre Island (Corpus Christi), Port Aransas (Mustang Island), Crystal Beach (Bolivar Peninsula), and South Padre Island.
Search property for sale on the Texas Gulf Coast
Coastal Resort Cities
---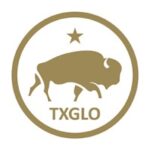 The Texas General Land Office (GLO) is the steward of state-owned lands and responsible for management of the 367 miles of Texas coastline. The coastal region is Texas' second-most popular tourist attraction, generating $7 billion a year.
The GLO also helps protect the coastal natural resources and promotes efficient use of State real property with initiatives such as the Recycling, Adopt-A-Beach and Oil Spill Prevention and Response programs.
Texas is the only state in the nation that has an Open Beaches Act. Beaches can be privately owned, but are subject to the public beach easement, allowing the public free and unrestricted access to and use of the beach.
---