The beach is a hub for families and friends to make unforgettable memories and enjoy the energizing power of the waves. Crossing the bridge to the island is like entering a serene world where worries disappear.
Once upon a time in Texas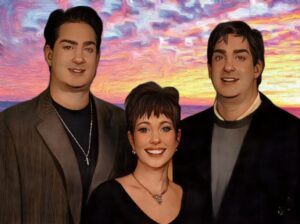 Our story is about a family that moved to the coast to work with new developments. It's a friendly and beautiful place with lots of things to do where people of all ages and backgrounds are welcome. The storms are tough, but friendships help everyone survive.
We established AssetWorks in 1990, a software company that we sold a decade later. Afterwards, we relocated to the coast and purchased Anchor Marina from Alice Donahue. Initially, we spent our time socializing and enjoying the local scene, until we stumbled upon the Island Baptist Church in 2003, much to Many's surprise. This is where we reconnected with Alice, and since then, we have been partners through thick and thin.
The entire Texas Gulf Coast 
Yes, we somehow did manage to live and work in most of the coastal cities and in about every type of residence from South Padre to Crystal Beach in beach and bay homes, RVs and even a boat, over fifteen years and we loved every minute of it!
We have the privilege of being a part of the evolution of the region and have experienced both its triumphs and failures. As a result, we have a deep understanding of what factors contribute to a successful project and which ones lead to failure. Our goal is to share our insights with others to help them make informed decisions and avoid common mistakes. This is reflected in our market analysis and property search features, such as the ability to search for homes with a beach view or real estate trends in specific neighborhoods.
Thanks to our early retirement and the advancement of technology, we were able to explore the entire coast and witness the diverse lifestyles and unique characteristics of each area. Our journey was a blend of hard work and fun, as we encountered friendly and interesting people along the way.
Many people flock to the Texas coast in search of a new beginning, and it is a place where many do find redemption. Despite its less than perfect coastline, its proximity to the metros and its redeeming qualities have earned it a loyal following. The local economy is driven by a steady stream of vacation renters from the metros and second homeowners, which helps to set a minimum value for real estate in the area. By buying property near this price floor, ownership becomes more enjoyable and sustainable.
Why you'll love the Texas Coast
The coast is characterized by its small, friendly, and rugged nature, yet is imbued with natural beauty and an unparalleled ability to bring people and families together. The region boasts low levels of crime, a diverse and accepting community, and a sense of redemption and humility. This, along with breathtaking sunrises and sunsets, creates a vibrant and enjoyable atmosphere for people of all ages and personalities.
One of the unique qualities of the coast is its ability to foster a sense of unity and community, which is often lacking in metropolitan areas. The coastal enclaves serve as a valuable example for the rest of the country and highlight the importance of living in harmony.
It is crucial to be aware of the real estate cycles, rental return on investment, storms, insurance, and general living conditions in the region. These cycles play an important role in keeping the coast accessible and enjoyable for everyone. The Texas coast is also home to industrial ports, oil tankers, and petrochemical plants, all of which contribute to its distinct character and make the beachfront a bit rough around the edges, but also more affordable.
See some of places, projects, and people we met along the way, we will add to the story each month.

---
Texas Beach Homes
We created Texas Beach Homes in 2005, a full-service real estate agency headquartered in South Padre Island, Texas, which offers the widest selection of beachfront property in the Lone Star State, including Crystal Beach, Galveston, Port Aransas, South Padre, and Corpus Christi.