Texas Coast Real Estate Market Analysis
Location – Location – Location is the real estate mantra, especially for vacation and second home properties!
Real estate sales analysis is the process of examining data related to real estate sales to understand market trends and make informed decisions. Real estate professionals, investors, and homebuyers can use this analysis to understand the local real estate market and to make informed decisions about buying or selling property.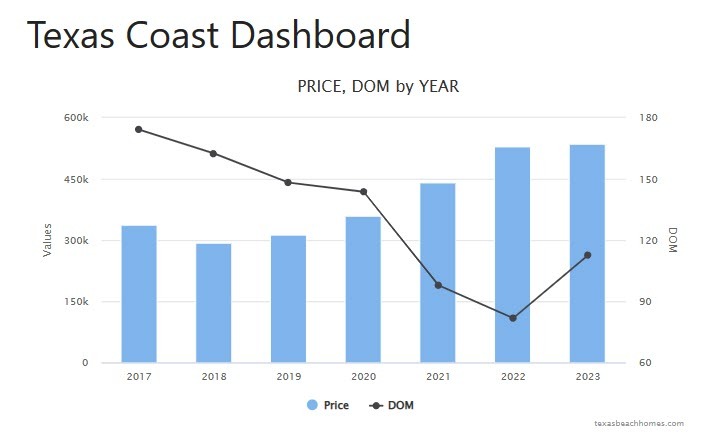 Sales analysis can involve a variety of data points, including the sale price of properties, the number of properties sold, and the length of time that properties are on the market. This data can be analyzed to understand trends in the market, such as rising or falling prices, changes in demand, and other trends. Real estate sales analysis can be a useful tool for understanding the local real estate market and making informed decisions about buying or selling property.
View our real estate cycle clock
Seasonality in vacation home real estate refers to the fluctuation in demand and prices for vacation homes based on the time of year. During peak seasons (such as summer or holidays), demand for vacation homes increases leading to higher rental rates and increased competition for available properties, driving up sale prices. During off-peak seasons, demand is lower resulting in lower rental rates and lower sale prices due to less competition among buyers. The metro economy and interest rates also influence the impact of seasonality on beachfront property prices.
Price Seasonality obscures month-over-month insights
Firstly, the fluctuation of demand for beachfront properties based on the time of year can make it difficult to accurately compare prices from one month to the next. This leads to significant swings in prices from one month to the next, making it difficult to discern underlying trends.
Additionally, the specific timing and duration of the peak season for beachfront properties can vary from year to year, which can further obscure month-over-month changes.
It is important to take seasonality into account when analyzing the prices of beachfront properties and to consider the broader market trends and economic factors that may be influencing prices over time. An analysis of long-term data, such as year-over-year changes, provides a clearer picture of the overall trends in the market, but we're changing that using advanced data analytics and datasets correlated with metro volume monthly for our members!
Real estate valuations are hyper-local. We suggest you consider price growth and the average time on the market, then see if it correlates with metro demand, to get an idea about which direction the market is heading and consider the following, which we cover in our monthly member reports.
The Texas Coast has value above a typical real estate market and exhibits a degree of stickiness in price during market corrections, and seasonality obscures insights from month over month making it difficult to spot opportunities and deals.
The unique parts of town, like our remarkable properties, can have significant price variations and we've also created coastal standards to help you compare properties by views and lifestyle.
For our website Members
We can accurately predict market cycle changes [in advance] using Google's demand data, the coastal MLS systems, Vacation rental data, State taxes, and Internet analytics. Using a formula based on these, we have predicted the market turns since 2005 and send updates to our website members. 
---
Our members receive valuable sales and analysis data! Join here or Login
Texas is a non-disclosure state and thus Texas law requires membership and that you see the Information About Brokerage Services document before we can share sales information online.
Become a registered member, it is fast, fun, and free, and gain coveted access to our unique sales analysis and join conversations with your peers and our experts to help you make smarter decisions about real estate on the Texas coast. This is the only site you can get to do this!
See our membership page for more details.

---
---
Related Pages