Texas Coast Real Estate Sales Analysis
Location – Location – Location is the real estate mantra, especially for vacation and second home properties!
Real estate sales analysis is the process of examining data related to real estate sales to understand market trends and make informed decisions. Real estate professionals, investors, and homebuyers can use this analysis to understand the local real estate market and to make informed decisions about buying or selling property.
Sales analysis can involve a variety of data points, including the sale price of properties, the number of properties sold, the length of time that properties are on the market, and other factors. This data can be analyzed to understand trends in the market, such as rising or falling prices, changes in demand, and other trends.
Sales analysis can be performed at various levels, including local, regional, and national markets. It is important to consider the specific market in which a property is located when analyzing sales data, as local market conditions can have a significant impact on the value and desirability of a property.
Real estate sales analysis can be a useful tool for understanding the local real estate market and making informed decisions about buying or selling property. It is important to consider a variety of data points and to consult with real estate professionals or other experts when conducting a sales analysis.
It's been extremely difficult to get accurate information relevant to the unique parts of town and lifestyles in our Texas coastal resort areas, because the sales information is all lumped together for the entire city.  This makes analysis over time and comparisons between markets irrelevant, and thus difficult to spot opportunities and deals.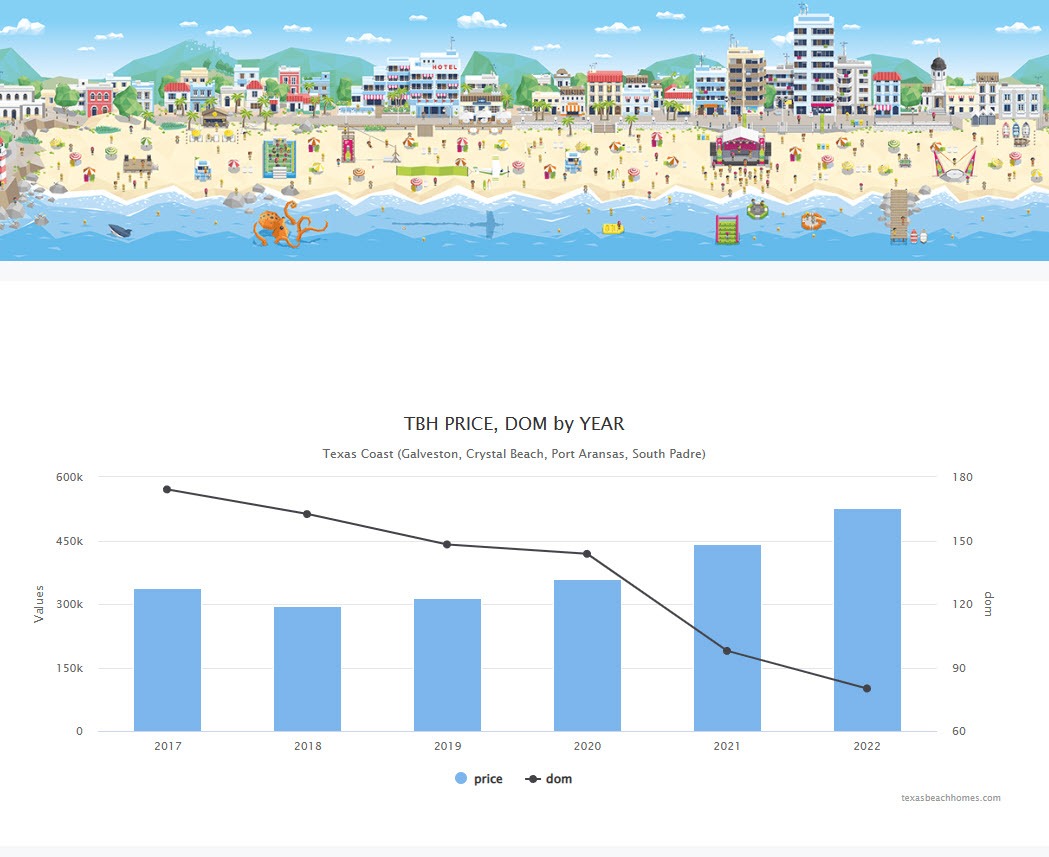 The unique parts of town on our islands have significant differences in lifestyle and price points, even just between the center of the island and beachfront/bayfront, and that's walking distance!
The beachfront itself has significant difference between each street, often referred to as rows, where row one is on the beach, row two across the street, rows three and four the next street, making the first four rows the most valuable, and the only properties with a view of the ocean.
Exceptions are a norm in real estate, examples on the coast include high-rises where the view and floor affect price, and today there's a significant difference in our newer remarkable properties, so we uniquely identify them as well.
We've created coastal standards so you can compare properties, demand and market statistics by property types, parts of town, views, and lifestyles between Texas' resort markets areas.

Our members can explore valuable sales and analysis data! Join here or Login
Texas is a non-disclosure state and thus Texas law requires membership and that you see the Information About Brokerage Services document before we can share sales information online.
Become a registered member, it is fast, fun, and free, and gain coveted access to our unique sales analysis and join conversations with your peers and our experts to help you make smarter decisions about real estate on the Texas coast. This is the only site you can get to do this!
See our membership page for more details.

---
Real Estate valuations tend to respond to regional and local influences; there is no single real estate market. The levels of jobs, population growth, local economic conditions, weather patterns and proximity to the waterfront are just some of the factors to consider.
Then there are the numbers. Typically, buyers and sellers look at the price appreciation and sales. These are important numbers, but not sufficient to determine future issues related to supply and demand.
We suggest you also consider the sales rate, current inventory and the average price spread between list prices and sold prices. With these numbers you can get an idea about which direction prices will be heading soon.
Another factor to consider is the interest rate and how that will impact on a buyer's ability to afford the diverse types of property. For example, land in a desirable area like the Texas Gulf Coast will be more affordable across a broader range of buyers than higher end planned housing developments should appreciation or interest rates push the cost of ownership too high.
One more thing, a desirable and improving market like the Texas Gulf Coast will always have some measure of value above that of a typical real estate market and will also exhibit a greater degree of stickiness in price during normal market corrections because second homeowners are in no great need to sell.
Real Estate agents are often accused of always painting a rosy picture of the market regardless of what's really happening, and so we are exposing the actual numbers so you can judge for yourself.
There are only two thousand sales a year on the entire Texas coast, so if you want to know about your situation, and don't want to look through the data, just ask! At any given time, there are about twenty-five thousand people actively looking at real estate on the Texas coast and most are members of this site!
---
---
Related Pages