The Texas Coastal Bend, or just the Coastal Bend, is a geographical region in the middle of the Texas coastline.
The largest city of Coastal Bend is Corpus Christi. It includes Corpus Christi Bay paralleled by two Texas barrier islands, North Padre Island and Mustang Island (with the city of Port Aransas) offering visitors and residents warm coastal waters and cool gulf breezes that create a pleasant environment for swimming, fishing, birdwatching, dolphin-watching, sailing, surfing, horseback riding or just sunbathing and relaxing. It's the most family-oriented lifestyle on the Texas coast.
Search property for sale in the Coastal Bend
Explore the Coastal Bend's beach areas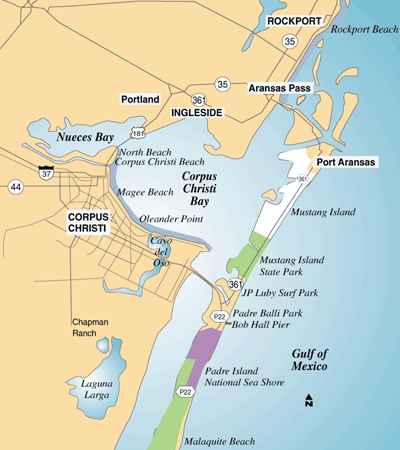 Corpus Christi is known as the "Sparkling City by the Sea" and features wonderful hotels, fine dining, sailing, fishing, beach combing and world-class attractions such as the Texas State Aquarium.
Beautiful stretches of beach can be found on both the mainland and island sides. Mustang Island State Park and Padre Island National Seashore are the top spots for sunning, shelling, fishing, swimming, surfing and a myriad of other beach activities.
Corpus Christi is one of the top three population centers on the Texas coast, the other two cities are Brownsville and Houston. A key asset is North Padre Island on the tip of the Padre Island National Seashore.
Coastal Bend Industries is a center for petrochemical, fabrication, marine research, shipping, and tourism.
The tropical climate, exceptional outdoor opportunities and premier health care facilities create an ideal community to live in and do business.
The area is experiencing an economic boom as the world-leading LNG port with billions in economic investments.
There are two barrier islands, Padre Island and Mustang Island that shield the bay, North Padre on the tip of padre island, and the city of Port Aransas on the tip of mustang island. There are three distinct beach home areas each with vastly different personalities.
Port Aransas is the diverse descendant of the fishing village, Mustang Island is the new beach home resort, and North Padre Island a residential neighborhood of Corpus Christi.  Each has a different audience and atmosphere, the locals live in Port Aransas or North Padre, whereas Mustang Island is primarily a second home area.
More Information 
---