Located on North Padre Island, Whitecap Preserve is envisioned as a new master-planned community in the North Padre Island area of Corpus Christi.
This bay-to-gulf coastal destination is planned for a variety of homes, mixed-use facilities, and engaging amenities. It is being expertly designed to protect the natural treasures of the region providing residents a tranquil island respite. Whitecap will be that special place where treasured memories are created with family and friends.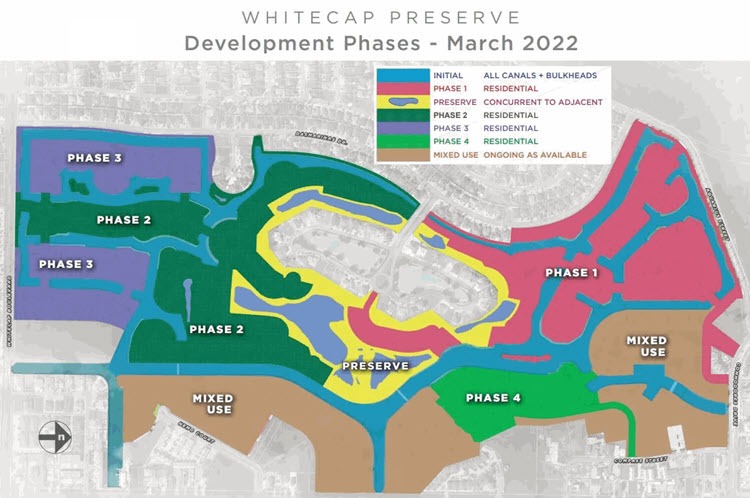 ---
Here's the development plan overlayed on North Padre Island, which begs the question, why is the more valuable beachfront property not developed?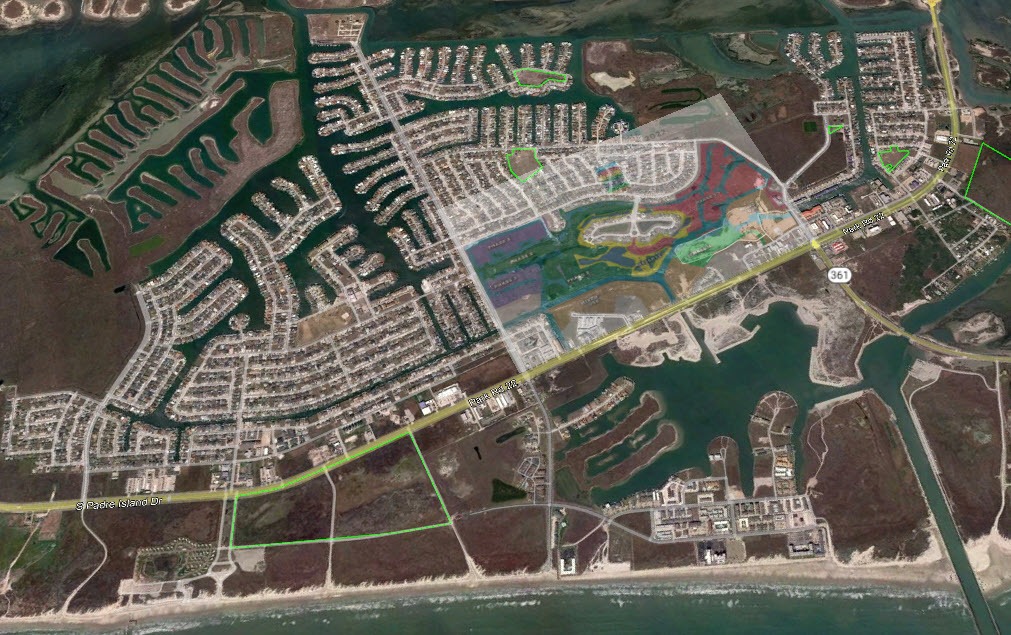 Given how many "big idea projects" have consecutively failed on North Padre Island, this doesn't sound ideal! It's not in the best location for North Padre, a "lowest price" development would be a better fit. Perhaps that's the plan, given the developer specializes in distressed properties.
The local demand hasn't preferred master planned developments which add expensive community features more typical of resorts with a short-term rental mindset.
And there's too much available and planned development in adjacent Mustang Island, which is the most successful second home short term rental market on the Texas coast.
Corpus Christi should consider something like subsidized properties in this section akin to what Port Aransas has successfully done with Palladium
What has worked on North Padre is to build to actual demand one home or one multifamily complex at a time because all the buyers and renters are residents of Corpus Christi.
A more promising idea for Corpus Christi would be new high rise(s) on the beachfront! What happened to the Del Mar beach high-rise project?
---
Whitecap Preserve Corpus Christi
The Corpus Christi City Council approved a re-zone of the 240 acres on North Padre Island for a long-term development project. The master plan for Whitecap Preserve will include more than six hundred residential lots and an additional fifty acres for commercial and natural uses.
Corpus Christi Mayor Paulette Guajardo said the development will be a catalyst for economic activity on the island and in the mainland city.
"Corpus Christi will become known more as a beach city with developments like this," District 4 City Councilman Greg Smith said of the project. "It will be a very different development than what we're used to seeing on the Island right now."
Whitecap Preserve will be built on the former Schlitterbahn and Waves Resort properties by Ashlar Development, a company known for building resorts in the Texas Hill Country.
Development is estimated to take up to 10 years to complete and will be built in phases. The finished product will include permanent residencies, short-term rentals, and a new system of canals with total access to the water.
The City of Corpus Christi also initiated a public improvement district to help with construction costs, which are valued between $800 million and $1 billion.
Construction may begin spring 2023 on the 240-acre North Padre Island project
Whitecap Preserve will rise on a site that was once home to a Schlitterbahn waterpark. Diamond Beach Holdings acquired the site through bankruptcy court in 2018 and rebranded the resort the following year, SABJ reported. Not long after, Diamond Beach closed the resort because of the pandemic's impact on tourism in 2020. Last August, the waterpark was demolished along with a 92-room hotel and an outdoor theater.
"This project has been in discussions with the city for a couple of years in various forms and concepts of development," said Iain Vasey, president, and CEO of the Corpus Christi Regional Economic Development Corporation. "The Padre Island part of Corpus Christi has not seen this amount of investment in many years, so it will be very exciting to observe the development of this project over time."
Diamond Beach Holdings, the city of Corpus Christi and the Flour Bluff independent school district are development partners on the project, according to city documents. Place Designers is the architect.
Ashlar's portfolio includes master-planned communities near Austin, Houston, Dallas and Mount Juliet, Tennessee, according to its website.
---
Reference City Presentation
Reference Press Release