One of the two Texas Coast's Highway Ferry systems
The Galveston-Port Bolivar ferry takes travelers between Galveston Island and the Bolivar Peninsula. The Galveston-Port Bolivar ferry is the bridge between two segments of State Highway 87. South of IH-10, State Highway 87 is the only highway around Galveston Bay.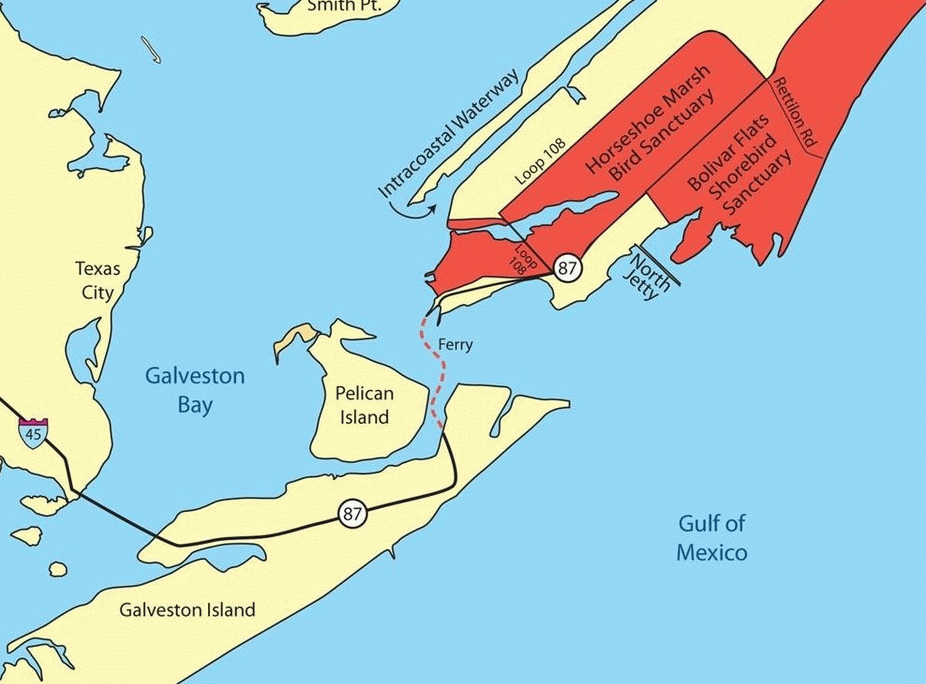 Galveston directions: 1000 Ferry Road North, Galveston, TX 77550
Bolivar directions: 123 Texas Highway 87, Port Bolivar, TX 77650
The free ferry service provided by TxDOT is the only way motorists can cross the waterway between Bolivar Peninsula and Galveston Island.
The 2.7-mile trip takes approximately 18 minutes to cross one of the busiest waterways in the world. Through the Bolivar Roads Channel flows the commerce of the Port of Houston, the nation's largest inland port, as well as other Galveston and Trinity Bay communities. Approximately 7,000 ships visit the Port of Houston each year.
The ferry operation consists of five boats, each of which can carry approximately seventy vehicles, five hundred passengers and six crew members. Each ferry can carry eight 18-wheel trucks weighing 80,000 pounds each. All the boats are double ended with a pilothouse on each end, and the captain changes from one pilothouse to the other to go in the opposite direction.
Vehicles should not exceed 80,000 pounds, may have a maximum length of 65 feet, a maximum height of 13.5 feet and a maximum width of 8.5 feet.
Day schedule
One vessel is in operation 24 hours per day. A second vessel will be placed in service at 6:30 a.m. After this departure, the two vessels will operate based on traffic volumes, and will space themselves to carry traffic as efficiently and safely as possible. A third vessel will be placed in service during the afternoon period if necessary. Up to five vessels may be operated for summer and holiday traffic.
Night schedule
Departs Galveston
Departs Bolivar
No. 1 Ferry
No. 2 Ferry
No. 1 Ferry
No. 2 Ferry
12 a.m.
12:30 a.m.
1 a.m.
1:30 a.m.
2 a.m.
2:20 a.m.
3:05 a.m.
3:30 a.m.
4 a.m.
4:20 a.m.
5 a.m.
5:30 a.m.
6 a.m.
 6:30 a.m.
6:30 a.m.
 7 a.m.